Now our customers need us even more, we'll keep our trucks rolling to keep serving you.
At SuperValu, our stores are doing everything they can to keep things business as usual. Our passionate store teams, warehouse colleagues and dedicated drives are going above and beyond to keep the shelves stocked with fresh food and essentials. When it comes to community, we've always had your back.
Shopping Safely in Store
Across our network of stores, we have implemented a number of social distancing measures to ensure the safety of our staff and customers. This includes;
protective screens
visible floor markings
limitations on the number of customers permitted in store at any one time
In-store, we would ask everyone to respect each other's space and avoid contact with other customers by observing a social distance of one metre.
In line with NI Executive legislation, we ask that you wear a face covering while shopping in store however appreciate there are some customers who are exempt from wearing face coverings, the personal reasons for which are not always obvious.
At checkouts, customers may notice tape on the floor, or signs showing them how far to stay apart from each other in the queue.
Where possible, we are asking customers to use contactless payments; and to observe any directions given in-store over the tannoy, or as directed by signage.
Please note, due to additional measures announced by the Northern Ireland Executive on 14th October to reduce Covid-19 transmission, our off-licence will close at 8pm. We cannot sell alcohol after this time.
We thank you for your patience and for adapting the way you shop with us.
Please be assured that we are doing all that we can to help prevent the spread of this disease whilst keeping our stores open to ensure the supply of food to our communities
#TogetherWeAreStronger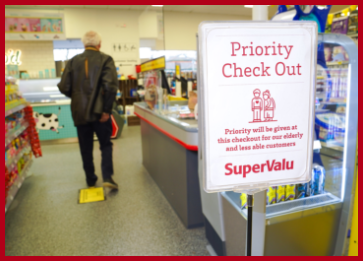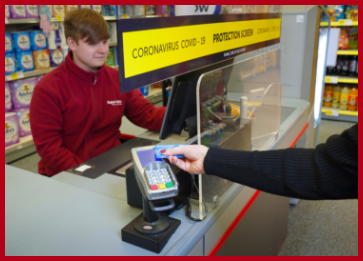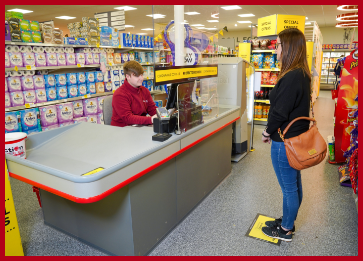 FAQ's
The following FAQ's aim to reassure and remind you of the current measures we are taking to ensure the wellbeing of our shoppers and staff when you're in store*.
The health of our colleagues across our store network, our customers, the communities we operate within and our supply chain partners is our top priority at this time. All of our stores are adhering to the latest updated guidelines provided by the HSE.
This includes washing hands frequently with soap and water, use of sanitising gel, rules around sneezing and disposal of tissues and regular cleaning and disinfectant of frequently touched objects and surfaces.
Our stores have implemented comprehensive social distancing procedures applicable to all areas of the store including cash desks where we're recommending contactless payment when possible.
We ask that you wear a face covering while shopping in store however appreciate there are some customers who are exempt from wearing face coverings, the personal reasons for which are not always obvious.
We've closed our seating areas and each store has implemented a new sanitising regime throughout all store areas. In addition to this, plexiglass screens are now available for all stores which provides added protection for our cashier colleagues.
We've a very clear policy should any member of our team discover any symptoms, starting with a requirement to self-isolate immediately.
All stores are implementing a 5-step hygiene plan as follows:
1. All employees must observe strict coughing/sneezing protocols.
2. All employees must observe the strict HSE guidelines around hand washing.
3. All customer-facing areas of the store are being cleaned on a regular basis. This includes areas such as checkouts, counters, ATM's, trolleys, coffee machines etc.
4. All stores external service areas are being cleaned on a regular basis. This includes fuel cubbies, laundry machines and car park ticket machines etc.
5. For stores with Forecourts all stores will ensure that there are gloves and sanitiser wipes available for customers and that these are available at all times.
Unless colleagues normally wear gloves as part of their normal work, we are not asking them to start wearing gloves. Instead, they should wash their hands regularly and use sanitisation gels/wipes as advised in our Covid-19 policy to all colleagues. As per HSE advice, this is the best approach to preventing the spread of Covid-19.
To look after our elderly customers, we are:
1. Offering home deliveries in a large number of our stores – Click here for more details.
2. Where possible, some stores are providing elderly only shopping times and isolating a checkout for elderly customers to use
3. Lending some help – our staff are more than happy to assist with packing bags and bringing shopping to the car.
Yes we still accept cash but are asking our customers to use contactless payment methods where possible. The limit for contactless purchases has been raised to £45.
Any communal seating areas are closed.
Some of our stores have amended their opening hours to allow for further staff breaks, replenishment of stock and store deep cleans. Please check with your local store for the most up to date information.
We have launched a new home delivery service throughout selected stores for the elderly, vulnerable and those self-isolating. Click here for more details.
*Safety measures may vary across our stores and some are still currently being rolled out.