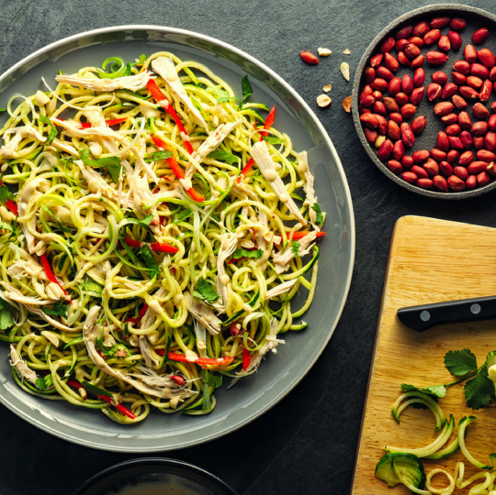 20
Mins Prep Time

20
Mins Cook Time

Skill Level
Cooking Instructions
Pour the chicken stock into a saucepan, add the ginger and bring to the boil. Remove from the heat and allow to cool for 15 minutes so that the ginger infuses the stock.

Cook the Spiralized courgette for 10 minutes until soft.

Put the peanut butter, honey, sesame oil and chilli flakes in a mini processor or a screw-topped jar with the chicken stock, and process or shake well to mix together. Add the lime juice to taste.

Put the chicken, cucumber, carrot, spring onions and courgette noodles into a large bowl and add the dressing. Toss gently. Serve sprinkled with a few fresh coriander leaves.