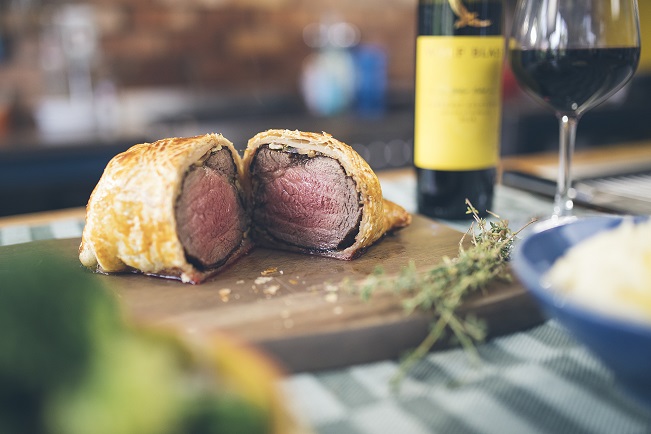 15
Mins Prep Time

35
Mins Cook Time

Skill Level
Cooking Instructions
Pre-heat griddle pan to a high heat, rub fillet with olive oil and place on pan.

Brown on both sides. Remove from pan and allow to cool.

Heat a large frying pan and add butter, chopped mushrooms, garlic, shallots, thyme and white wine. Cook for 4-5 minutes until softened. Allow to cool.

Pre-heat oven to 200°C/400°F/ Gas Mark 6.

Roll out the puff pastry to 2 rectangle shapes, ensure one is slightly larger than the other for the top. Brush the bottom rectangle sheet with egg yolk and milk mixture, then add Parma ham.

Top with a layer of mushroom and the browned beef fillet.

Cover the beef with second sheet of puff pastry. Brush the top of the pastry and seal the edges where both sheets of pastry meet to encase the beef perfectly.

Place in fridge for 10 minutes to rest.

Place the rested Beef Wellington in a preheated oven and bake for 20-23 minutes or until the pastry is golden brown.

To test if the meat is cooked, insert a skewer into the centre of the Wellington, leaving it for 15 seconds, then removing it.

If the skewer is cold the meat is underdone, if warm the meat is rare and if hot the meat is well done.

Serve with Mash & Seasonal Vegetables.