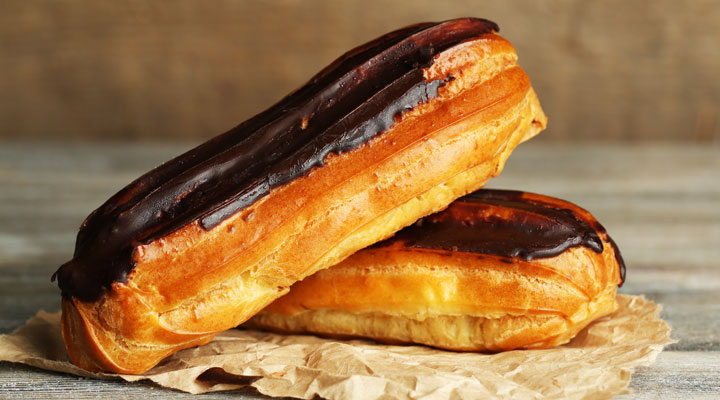 15
Mins Prep Time

30
Mins Cook Time

Moderate
Skill Level
For the crème patissière
Cooking Instructions
Preheat the oven to 160°C/325°F/gas mark 3. Line a baking sheet with nonstick baking (parchment) paper.

Spoon the dough into a piping (pastry) bag fitted with a plain 1cm (1⁄2 inch) nozzle (tip). Pipe 6cm (21⁄2 inch) strips on to the prepared baking sheet, spacing them at least 2.5cm (1 inch) apart.

Dip a fork into a bowl of hot water and smooth the top of each choux strip.

Brush the top of each strip with a very light coating of egg wash.

Bake for 20–25 minutes, until golden brown outside and dry inside. Transfer to a wire rack to cool.

Meanwhile, prepare the crème patissière. Put the egg yolks and sugar in a bowl and whisk until light and creamy. Beat in the flour, then set aside.

Place the milk and vanilla seeds in a saucepan and bring slowly to the boil. Remove immediately from the heat and pour half into the egg mixture, whisking constantly as you do so.

Add the egg mixture to the milk remaining in the pan and whisk constantly over a low-medium heat until simmering. Continue to cook and whisk for 2 minutes, or until the mixture has thickened and lifts off the bottom of the pan.

Transfer the crème patissière to a clean container and place a sheet of clingfilm (plastic wrap) directly on top to prevent a skin forming.  Leave to cool for 2–3 hours, until set.

When you're ready to assemble the éclairs, use a small sharp knife to cut the buns in half horizontally.  Pipe or spoon the crème patissière into the bottom half of each one.

Put all the icing ingredients into a bowl and mix until smooth.

Dip the upper surface of the remaining pastry halves into the icing and place them on the filled lower halves.

The éclairs are best enjoyed on the day they are made, enjoy.