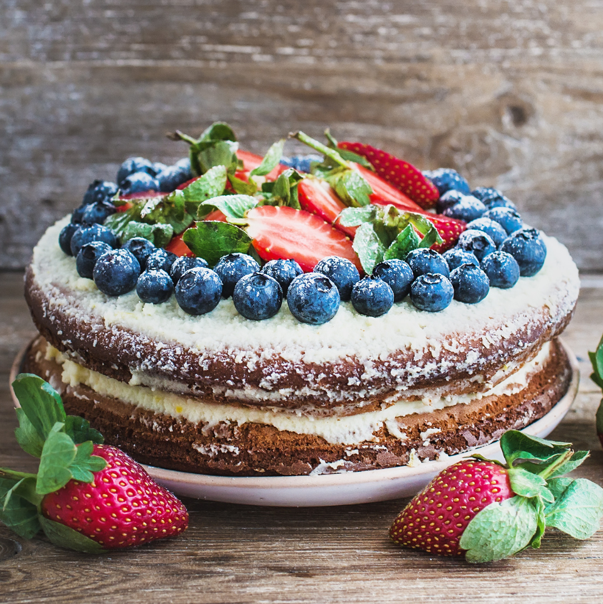 30
Mins Prep Time

40
Mins Cook Time

Moderate
Skill Level
Salted Caramel Swiss Meringue Buttercream
Cooking Instructions
Preheat oven to 180°C (160°C fan-forced) and grease or line two 15cm (6") cake tins with greaseproof paper.

Melt butter in a small saucepan, add milk and cream and stir over low heat until smooth. Do not allow to boil. Set aside.

Place eggs and sugar in free-standing mixer with paddle attachment and beat on medium speed until pale (approximately 3-5 mins).

Add golden syrup to eggs and sugar, then grated ginger, and continue to mix until smooth.

Sift flour, baking soda, spices and salt together in a large bowl.

Add 1/3 of the flour mixture to eggs and sugar mixture, and mix on low speed until smooth, then add 1/3 of the butter mixture. Continue to alternate between adding the dry and wet ingredients into the batter and mix on low speed until smooth. Scrape the bowl with a spatula between each addition and take care not to overbeat.

Divide batter evenly between cake tins, weighing the tins using a kitchen scale to ensure equal volume.

Bake in pre-heated oven for approximately 40-45 minutes, or until a cake tester comes out clean.
Heat cream in a small saucepan over low-medium heat until hot and steamy, then remove from heat while caramelising sugar as below.

Melt 1/3 of the caster sugar in a medium saucepan over low-medium heat.

Continue adding the sugar over the melted sugar in small additions, until all the sugar has melted and you have achieved a dark, amber colour.

Remove the pan of melted sugar from the heat and quickly stir in butter and cream, mixing thoroughly and taking great care not to burn yourself.

Return the pan to the heat and keep mixing until the sugar, cream and butter are mixed through.

Add salt to taste, then leave to cool to room temperature.
Place egg whites and caster sugar in heatproof bowl over small saucepan of simmering water, ensuring the base of the bowl does not touch the water.

Allow the sugar to dissolve, whisking intermittently, heating to 65°C to ensure egg whites are pasteurised.

Allow mixture to cool to room temperature, then whisk in free-standing mixer until white, glossy, soft meringue peaks form.

Very slowly add small 1cm cubes of softened butter, then salted caramel sauce to taste, and continue whisking until buttercream is light and fluffy.