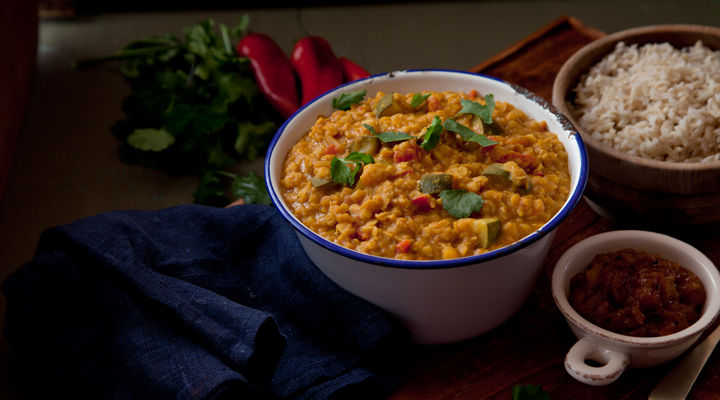 10
Mins Prep Time

40
Mins Cook Time

Skill Level
Cooking Instructions
Sauté the onions, garlic, chilli and ginger in the oil in a large pan on a high heat for 5 minutes, stirring regularly. When the onions are soft, add the courgette, tinned tomatoes and 1 teaspoon of the salt. Cover the pan and cook gently over a low heat for 5 to 10 minutes, stirring occasionally. If you have time, cook the veg for longer – the longer you cook them, the more flavourful your curry will be.

Add the lentils, coconut milk, soy sauce, lime juice, all the spices, the remaining teaspoon of salt and the water and bring to the boil, then reduce to a low heat and simmer for about 25 minutes, until you are happy with the texture of the curry. Stir regularly, as lentils have a tendency to stick.

Season with salt to taste before serving, then sprinkle over the chopped coriander and flaked almonds. Serve with brown rice or toasted wholemeal pitta breads, cut into soldiers. Mango chutney is also a nice accompaniment.