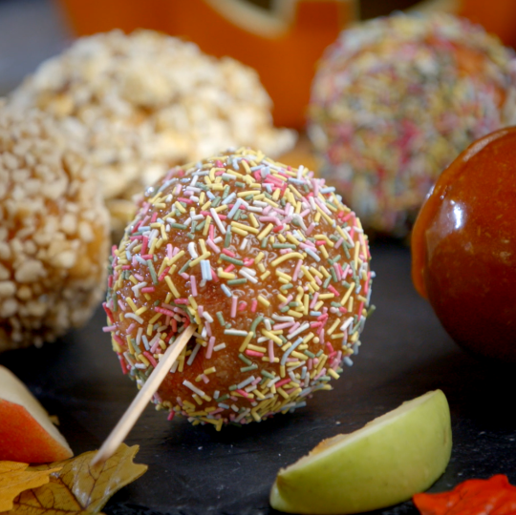 10
Mins Prep Time

15
Mins Cook Time

Beginner
Skill Level
Cooking Instructions
Melt the butter in a saucepan, add the syrup and sugar. Stir until boiling and continue boiling for about 15 minutes, without stirring.

Test that the toffee is ready by spooning a little into a bowl of cold water. It should harden instantly and, when removed, be brittle and easy to break. If you can still squish, continue to boil. Toffee for apples is also ready when it reaches 150 degrees C.

Turn off the heat when done.

Whilst the ingredients are boiling, rinse the apples in cold water and dry with a clean tea towel.

Pop a lollipop stick into the bottom of each one so that they are secure.

Put some grease proof paper on a baking tray.

Dip each apple in the toffee so that it is covered and let the excess drain off back into the saucepan.

Dip in the topping of your choice or leave plain.

Place on the grease proof paper and leave to harden.

Keep going until all the apples are covered, or all the toffee is gone.