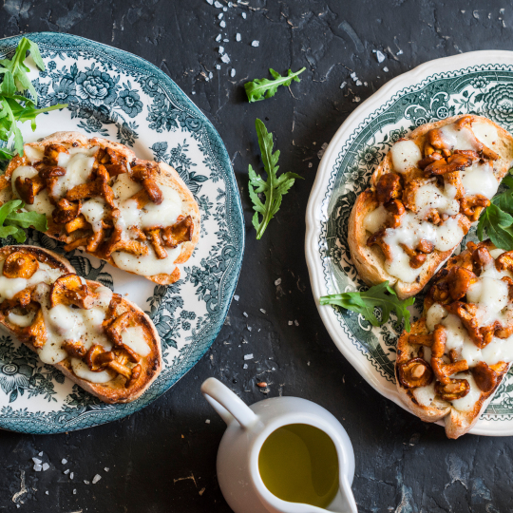 5
Mins Prep Time

5
Mins Cook Time

Skill Level
Cooking Instructions
In a large skillet (so you can use it again for the mushrooms), melt butter over medium heat and then stir in flour until a paste forms. Very slowly drizzle in milk, whisking the whole time to keep the mixture smooth.

Add nutmeg, salt and pepper and cook, stirring, until mixture has simmered for a couple minutes. It will be thick and get thicker as it cools; this makes for a better spread. Scrape into a bowl and stir in Dijon. Adjust seasonings if needed. Set aside.

Heat oven: To 425 degrees F. Line your largest baking sheet with foil. Cook the mushrooms: Wipe out skillet and heat over medium-high. Add a drop of olive oil or a mix of olive oil and butter. Once it is very hot, add 1/3 to 1/2 of mushrooms, 1/3 to 1/2 of herbs and let sear in pan until brown underneath, about 2 to 3 minutes, before stirring and continuing to cook until tender and any liquid in the pan has cooked off, about 5 minutes. Season well with salt and pepper. Repeat with remaining mushrooms.

Spread bread in one layer on prepared baking sheet. Schmear each all the way to the edges with sauce; you should have exactly enough for a thin coat on each. Heap each slice with mushrooms; use them all. Sprinkle cheese over and since the mushrooms are heaped so high, you'll probably have to press it in a bit with your hand.

Bake for 10 minutes, until cheese is melted all over, then transfer to the broiler and cook until tops are browned, a few minutes more.

Scatter with parsley and eat with a knife and fork, preferably with a big green salad on the side.