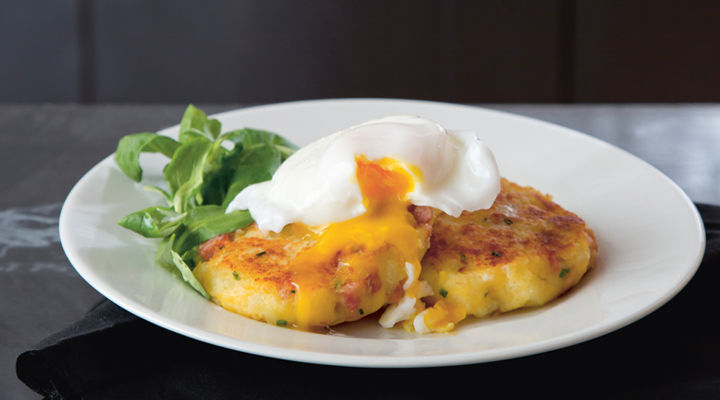 20
Mins Prep Time

5
Mins Cook Time

Beginner
Skill Level
Cooking Instructions
Place the potatoes in a saucepan of salted water and bring to the boil. Reduce the heat and simmer for 12 to 15 minutes, until cooked through. Drain and mash but leave them a little chunky rather than like mashed potato.

Mix through the ham, Cheddar, flour and chives and shape into four potato cakes. Heat a large frying pan over a low heat and add the oil. Fry the potato cakes for 5 minutes on each side, until golden brown.

Meanwhile, to poach the eggs, bring a large, shallow pan of salted water to the boil and add the vinegar, then reduce the heat to a simmer. Break the eggs into the pan and simmer for 3 to 4 minutes, until cooked but still soft in the centre. Remove the eggs with a slotted spoon onto a piece of kitchen paper and drain well.

Place two potato cakes on each serving plate and top with an egg. Serve with watercress on the side.