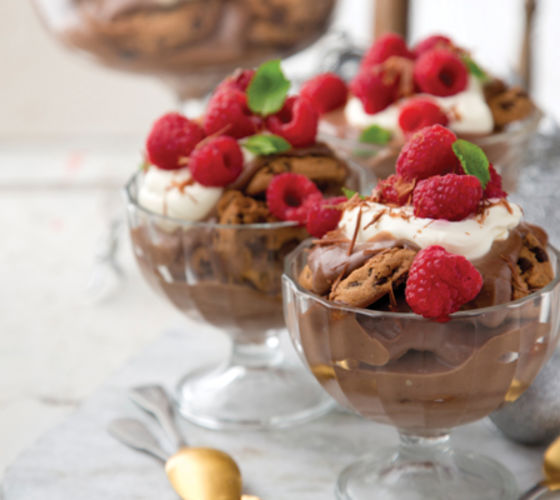 15
Mins Prep Time

15
Mins Cook Time

Beginner
Skill Level
Cooking Instructions
Pour the custard into a pan and break all but one square of the chocolate in. Place over a gentle heat and stir until the chocolate melts. Remove from the heat and leave to cool completely.

Place the mascarpone in a really large bowl with the vanilla seeds and beat briefly to soften a little. Pour in the cream and whisk until soft peaks form. This is easiest with an electric mixer or whisk. Fold through the Irish cream liqueur, if using.

Spread one-sixth (about 100g) of the cooled custard onto the base of a 20cm-wide trifle bowl that's at least 14cm deep. Arrange eight of the cookies in an even layer on top. Spread one-sixth (about 160g) of the mascarpone mixture on top in an even layer. Repeat until you have six layers of cookies, finishing with a layer of the creamy mascarpone mixture. Chill in the fridge for at least 8 hours or overnight. This can be prepared up to 24 hours in advance.

When ready to serve, finely grate the remaining chocolate over the top. Arrange the fresh fruit in a pile in the centre and go wow your guests!