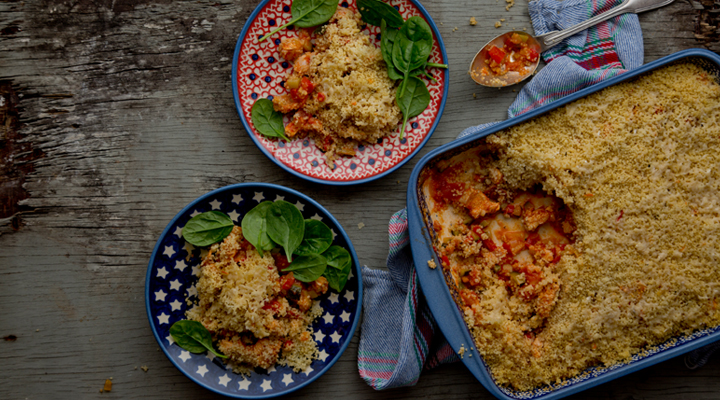 10
Mins Prep Time

25
Mins Cook Time

Skill Level
Cooking Instructions
Preheat the grill to medium.

Place the couscous in a heatproof bowl and pour over the hot vegetable stock. Cover the bowl tightly with cling film and set aside until all the stock has been absorbed, then fluff up the couscous with a fork.

Meanwhile, heat the oil in a frying pan set over a medium heat. Add the turkey mince and bacon and fry off until the mince is browned and the rashers are cooked through.

Add the onion, courgette, peppers, chopped tomatoes, tomato purée, paprika and a pinch of salt and pepper.

Fry for about 10 minutes, until the vegetables have softened.

Transfer the turkey mixture to a pie dish or baking dish, then spoon over the couscous in an even layer to create the topping.

Sprinkle the top of the pie with the grated Parmesan, then place under the grill for 2 to 3 minutes, until the couscous topping is brown and crisp. Serve straight to the table.