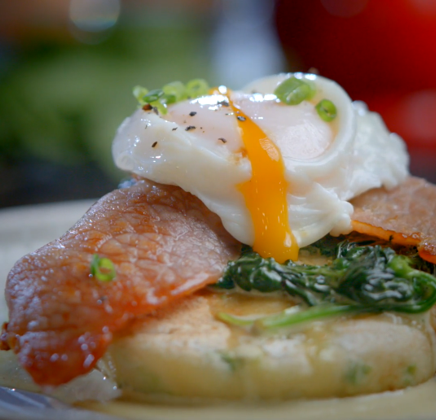 15
Mins Prep Time

30
Mins Cook Time

Skill Level
Cooking Instructions
If you have left over champ, use that, otherwise wash, peel and boil the potatoes.

Heat the butter, cream and chopped scallions in a saucepan or microwave, add to the potatoes with a good pinch of salt and mash thoroughly.

Allow the champ to cool so you can handle it. Add the flour and baking powder and mix well until you have a soft dough-like consistency. Shape into 4 rounds about 2.5cm thick.

Heat a large frying pan over a medium heat and dust the pan with a little flour. Cook the potato breads for about 10 minutes on one side (until they begin to colour), and then flip over and do the same on the other side.

Wash the spinach leaves and place in a large saucepan over medium heat (they will wilt down to a fraction of their size) Keep stirring until most of the moisture has evaporated, then turn up the heat, add a small pinch of grated nutmeg, the cream, a good pinch of salt and freshly ground pepper.

Heat vigorously until the cream has reduced, then turn off the heat and keep warm.

Grill your bacon rashers and poach the eggs.

To serve, put a spoonful of the creamy spinach on top of a piece of potato bread, then 2 rashers of bacon and top with a poached egg. Enjoy!