There are just weeks left until Northern Ireland's 2016 SuperMum is crowned. Now into its third year, SuperValu has continued its search, choosing 35 finalists across the province who are in the running for the SuperValu SuperMum title.
Over the next few weeks you'll be getting to know the 35 finalists representing different SuperValu stores, who we will preview along with media partners Sunday Life and U105, in the run up to the grand final event at Parliament Buildings, Stormont, hosted by TV personality Claire McCollum on September 28th.
The overall winner of the competition will be revealed on the night and be crowned SuperValu SuperMum 2016. The event, in association with Magnum and Robinsons, will see the winner go home with a family trip to Disneyland Paris courtesy of Clubworld Travel and all finalists will receive a pamper hamper.
Below are the next 5 finalists: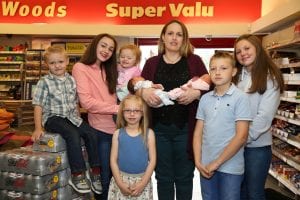 Name: Elaine Heatrick
Age: 39
Store: SuperValu Richhill
Elaine is a mother of eight, including newborn twins, from Armagh, Co. Armagh and was nominated by her eldest daughter Amy.
Amy feels her mum is a Supermum for her love and patience when looking after her siblings and their ill dad, whilst running a busy household. Her children are grateful as Elaine does the school run each day for everyone, not making them take public transport and brings them to all their afterschool activities, which run on to late on most evenings.
Elaine makes sure each one of her children are well looked after and cooks a homemade meal each night. Standing late every night washing dishes and ironing clothes are only a few of the daunting tasks she faces, Elaine doesn't own a tumble dryer or dish washer as space is limited and her children realise the substantial amount of effort she puts in to keep the household running smoothly.
Amy and all of the younger children are very grateful to have their mum, who is so dedicated to raising her family.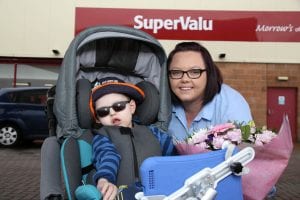 Name: Kerry Hawkins
Age: 30
Store: SuperValu Lurgan, Co. Armagh
Kerry is mother to three children Ashley (11), Matthew (9) and Ben (6) and is from Portadown, County Armagh.
Kerry was nominated by her friend Dawn Burrows for being the most amazing mum she has ever met, with a heart of gold and a strong sense of determination.
Kerry's youngest child has complex medical needs and requires 24 hour care and in addition to the demands of being a busy mum of three and running a home, Kerry always has a smile on her face, seeing the positive in every situation.
Kerry shows great courage and strength when facing any situation she is dealt with, she opens her home to family and friends and is always there for others to offer help and support.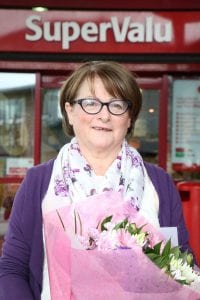 Name: Mary Morgan
Age: 64
Store: SuperValu Coalisland
Mary is mother of five and grandmother to five from Dungannon, Co. Tyrone and was nominated by her daughter Patricia for being a nurse by profession but a SuperMum by nature.
Raising one boy and four girls, Mary ensured her children never wanted for anything and had happy childhoods filled with memories. Still working in the local nursing home, Mary takes a genuine interest in the people she cares for as well as her elderly neighbours who she takes out to the shops each week.
She looks after her 17-month old grandson two days a week and showers her other grandchildren with love and gifts when she visits them in Co. Meath and Birmingham.
Mary is just a normal woman who has the ability to help a lot of people in her own time and never expects anything in return.
Name: Paula McErlean
Age: 53
Store: SuperValu Cookstown
Paula is mother of three, Donard, Aine and Christopher and grandmother to five and is from Gulladuff, Co. Londonderry.
Paula was nominated by her son Donard for being a hard-working and inspirational woman while dedicating her time and energy to her family. She achieved grades in Nursing Auxillery work while bringing up her children and working full-time as a care assistant in Mid-Ulster Hospital for over 12 years.
She is a rock to her family, learning Makaton Sign language which has helped in the success of her six-year old grandson Padraig, who has Down's Syndrome, achieving access to a mainstream school. Paula has also been so strong for her daughter who recently lost twins, giving Aine the strength to get through it.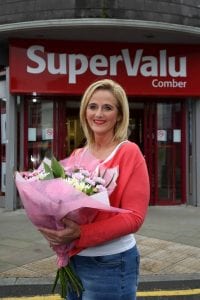 Name: Tracey Parker
Age: 44
Store: SuperValu Comber
Tracey is mother of two young boys Ross aged (14) and Ben aged (12) from Bangor, Co. Down and was nominated by her friends Suzie Gates, Lynne McCormick and Scott McDonald.
Tracey was widowed four years ago, after nursing her husband through a traumatic illness, closely followed by nursing her father during a long illness.
Her loss inspired her to raise awareness and funds for charity and despite working full time and raising her two sons, Tracey has worked tirelessly, and has helped to raise almost £100,000 for various charities including NI Chest Heart & Stroke, the MRI Scanner Appeal for the Children's Hospital and the Royal Belfast Hospital for Sick Children's Unit.
Lynne believes Tracey knows no bounds, with a heart of gold, the energy of a football team and feels she is doing a fantastic job raising her sons.