There are just weeks left until Northern Ireland's 2016 SuperMum is crowned. Now into its third year, SuperValu has continued its search, choosing 35 finalists across the province who are in the running for the SuperValu SuperMum title.
Over the next few weeks you'll be getting to know the 35 finalists representing different SuperValu stores, who we will preview along with media partners Sunday Life and U105, in the run up to the grand final event at Parliament Buildings, Stormont, hosted by TV personality Claire McCollum on September 28th.
The overall winner of the competition will be revealed on the night and be crowned SuperValu SuperMum 2016. The event, in association with Magnum and Robinsons, will see the winner go home with a family trip to Disneyland Paris courtesy of Clubworld Travel and all finalists will receive a pamper hamper.
Below are the next 5 finalists: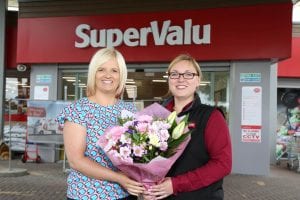 Name: Cathy Laverty
Age: 33
Store: SuperValu Tandragee
Cathy is mother of three, Katie (5) and two year old twins Maisie and Poppy, from Tandragee, Co. Armagh.
Cathy was nominated by her mother Kate Glover for being so dedicated to her children and no matter what issue may arise, Cathy deals with it showing confidence and determination, especially for her children.
Katie is a Special Needs child with a very rare chromosome condition, Katie cannot walk or talk, has low muscle tone so is unable to sit unaided and has drug resistant epilepsy and also suffers from respiratory problems.
As well as dedicating her time to her family, managing hospital appointments at The Royal in Belfast and Craigavon Area Hospital for Katie, Cathy operates her own travel business from home. Cathy is cheerful, happy and energetic in all that she does and will always go that extra mile for her customers.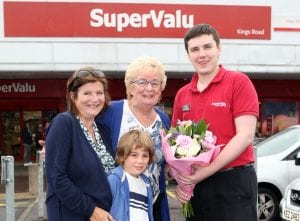 Name: Jackie Darnbrook
Age: 75
Store: SuperValu Belfast, King's Road
Jackie is mother to two grown up daughters, Nicki and Lindsay and grandmother to two boys Daniel (7) and Christopher (4), Jackie is from Belfast.
Jackie was nominated by her daughter Nicki for being her real life SuperMum! Bouncing back from several health battles with such positivity and optimism, she was determined never to give up on her two daughters.
Jackie fought breast cancer, underwent a double mastectomy, and contracted Hepatitis C through a blood transfusion during her mastectomy surgery which resulted in severe liver disease. More recently she has suffered broken limbs and heart problems and also survived a divorce in the middle of everything.
Now a doting grandmother, Jackie puts all of her energy into spending time with her two grandsons, nothing is too much trouble and she puts everyone elses needs before her own.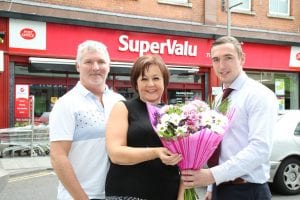 Name: Joan McGuinness
Age: 49
Store: SuperValu Newry
Joan is a mother of three, her daughter Caoibhe, her late son Oisin and seven year old Johnny and is from Newry, Co. Down.
Joan was nominated by her husband John for being a natural mother and inspiration to those who know her. Joan has worked full-time since leaving college, while bringing up two children, she always ensured they had every opportunity to learn, live and play.
Joan lost her son, Oisin in 2009 when he was just 16 years, an event which almost destroyed the family. After a period of excruciating grief, Joan began to recover and in 2012 the family adopted a three year boy, Johnny who has Down's Syndrome.
Since then Joan and her family haven't looked back, Johnny has brought so much love and joy to the family.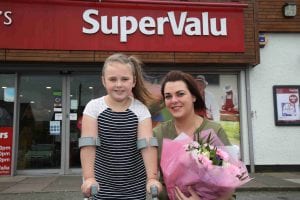 Name: Laura Coyle
Age: 27
Store: SuperValu Newbuildings
Laura is a mother of two, Kelsey (6) and Jack (2) and is from Londonderry, Co. Londonderry.
Laura was nominated by her husband Jason, recognising she is the best mother for their kids and for himself – the big kid of the family!
As a mother of two young children, Laura is always kept busy, tending to the needs of Kelsey and Jack and Jason appreciates that Laura looks after them so well as the cook, cleaner, doctor and fixer of the family while working Monday – Friday. She never complains and Jason believes their children would say Laura is their super mum!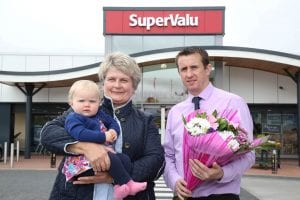 Name: Pauline Carlisle
Store: SuperValu Crossgar
Pauline is a mother of two grown up children, Leanna and Iain and grandmother to Jessica (1) and is from Saintfield, Co. Down.
Pauline was nominated by her daughter Leanna, recognising how amazing her mother is, having become a mother herself. Pauline's husband tragically died when she was expecting Iain, Leanna was only three-years old and raised both children single-handedly.
Leanna has never felt that she has missed out only having one parent and Pauline has been there for her children throughout, taking on many different roles as they grew up.
Being a parent isn't easy, yet Leanna recognises her mum did it on her own and takes real joy at seeing Pauline enjoy the time she spends with her granddaughter.