There are just weeks left until Northern Ireland's 2016 SuperMum is crowned. Now into its third year, SuperValu has continued its search, choosing 35 finalists across the province who are in the running for the SuperValu SuperMum title.
Over the next few weeks you'll be getting to know the 35 finalists representing different SuperValu stores, who we will preview along with media partners Sunday Life and U105, in the run up to the grand final event at Parliament Buildings, Stormont, hosted by TV personality Claire McCollum on September 28th.
The overall winner of the competition will be revealed on the night and be crowned SuperValu SuperMum 2016. The event, in association with Magnum and Robinsons, will see the winner go home with a family trip to Disneyland Paris courtesy of Clubworld Travel and all finalists will receive a pamper hamper.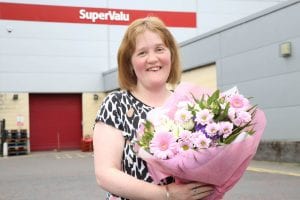 Name: Ann Sterritt
Age: 37
Store: SuperValu Banbridge
Ann is mother to 11 month old Ben from Banbridge, Co.Down, Ann was nominated by her sister Eva Whyte.
Ben was born with a condition called Anophthalmia, which means he has no eyes. This came as a great shock to Ann and her husband Darren as no abnormalities were picked up during her scans.
Ann has since left her employment to dedicate her time to Ben, devoting time to interacting with him through various activities, exercises and stimulation. Ann has volunteers with the RNIB and has organised various charity fundraisers and raised over £2,000 since October 2015 and plans more in the coming months.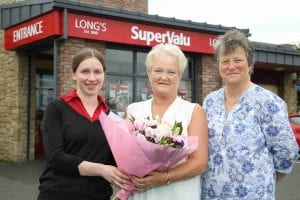 Name: Anne Heaney
Store: SuperValu Greenhaw
Anne is mother to six grown up children from Londonderry, Co. Londonderry and was nominated by her daughter Linda Heaney.
Despite being re-diagnosed with cancer in 2015, having been free of cancer for 18 years, Anne has not let it hold her back, continuing her voluntary work with St. John Ambulance. Despite this devastating news and dealing with pain and discomfort, Anne never misses a night at her unit meetings and makes sure her adult members receive up to date training.
Anne has raised six children and despite losing her husband at a relatively young age, continues to support her children and grandchildren whichever way she can. Anne's outlook on life is one of positivity and has faced many life challenges with grit and determination to overcome adversity.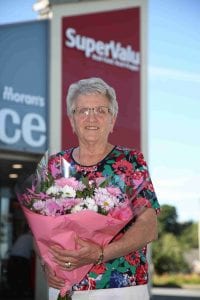 Name: Jennifer Smyth
Age: 66
Store: SuperValu Ballykelly
Jennifer is a mother of three, Janet Irons, Leona Hawkes and Martin Smyth from Limavady, Co. Londonderry.
Jennifer was nominated by Janet for always putting her children and grandchildren first, despite her own health issues.
Having overcome a heart attack and heart by-pass surgery, Jennifer's family is her priority. Jennifer would do anything possible to give her children and grandchildren the best upbringing as possible and Janet says she is the most loving and caring person and is the centre of the family.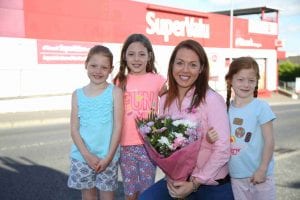 Name: Kara Dripps
Age: 42
Store: SuperValu Dungiven
Kara is mother to three girls Holly (9) Lucy (8) and Amy (6) from Maghera, Co. Londonderry and was nominated by her husband David.
A full-time Intensive Care Consultant, Kara deals with life and death situations on a daily basis but despite the stresses of her job, David feels she has an energy and commitment to her work and family that knows no bounds.
Working 80+ hours per week, the precious time she has with her family includes taking her daughters to swimming, gymnastics and Brownies as well as spending time cooking with them. Kara also looks after her elderly parents and volunteers as a Governor of the local primary school.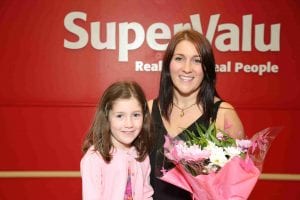 Name: Linda Dickson
Age: 36
Store: SuperValu Limavady
Linda is a mother of two, Dylan (16) and Sarai (5) from Limavady, Co. Londonderry.
Dylan nominated Linda for raising him single-handedly since he was two years old following the death of his dad in a car crash. Linda went on to study accountancy while working full-time and raising a toddler.
Linda now works full time as an accountant and is furthering her career, studying Law part time at Ulster University, Magee. Linda also sits on the Board of Governors of Dylan's school and when she has spare time she enjoys exercising up to five times a week.
Dylan feels Linda is a great support, always encouraging and there for them, especially with his GCSE's and despite working so hard, takes time out to enjoy life with her children.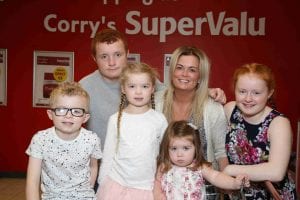 Name: Orla McLaughlin
Age: 33
Store: SuperValu Shantallow
Orla is a mother of five, Ethan (15) Niamh (12) twins Faye Elizabeth and Luke (6) and Sofia-Mai (2) from Derry~Londonderry.
Orla was nominated by her friend Emma for overcoming so much in life and never letting it define who she was as a person or a mother. Orla suffered sexual abuse as a child and young adult as well as experiencing homelessness as a teenager and an unexpected pregnancy at 17 years old. Throughout all of this, Orla always chose to see the bright side in life.
Now at the age of 33, Orla is the proud mother of five well-rounded, intelligent and happy, young children. Despite being the victim of domestic abuse from her ex-husband, Orla has used her experience to help others in similar situations by talking about it publicly.
Emma feels Orla's strength in overcoming her tough times while still managing to care for her family and raise her children shows how selfless, caring and wonderful she is.