Being part of the community is something SuperValu is passionate about. Whether that is creating new jobs, working with schools and community projects or raising funds for local charities, we want to be part of it.
We have been working with our charity partner, Action Cancer, for over 15 years. And together with Musgrave Retail Partners NI, we have raised £3,000,000! Something we are incredibly proud of and believed to be the largest amount ever raised by a company for an individual charity in Northern Ireland.
The funds have helped keep Action Cancer's Big Bus screening and health promotion unit on the road and also run a health promotion programme in schools.
---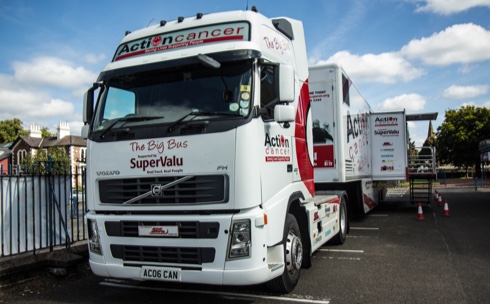 ACTION CANCER
Since the launch of the hi-tech Big Bus mobile in 2006, which SuperValu helped pay for, 40,000 people have used the services onboard, including 22,000 women who were screened for breast cancer. SuperValu stores have now raised more than £1million for the Big Bus, and continue to keep it on the road by helping to cover the annual running costs.
Services provided include:
• Digital breast screening
• Health promotion
• Health checks for men and women
In the first year of the Big Bus travelling the length and breadth of Northern Ireland, 4,500 people used the onboard services. Almost 3,000 women were screened for breast cancer using hi-tech digital equipment. In fact, four new cancers are being detected each month and almost 40% of clients said they would not have travelled for services if the Big Bus had not brought them to their doorstep.
The Action Cancer Big Bus will be visiting our stores throughout the year. We are very proud to sponsor Action Cancer and would like to encourage you all to call down for a visit.
---