Being part of the community is something SuperValu is passionate about. Whether that is creating new jobs, working with schools and community projects or raising funds for local charities, we want to be part of it.
We have been supporting our charity partner Action Cancer since 2001 and together with Musgrave Retail Partners NI, we have raised over £3.7 million!
These funds help keep Action Cancer's mobile detection and medical unit the Big Bus on the road. With its onboard lifesaving services of breast screening for women aged 40-49 and 70+ (outside of NHS screening age); a skin cancer detection service for men and women over the age of 18 which is new for 2023, and health checks for men and women over the age of 16, the Big Bus is a truly unique vehicle with no comparable vehicle operating elsewhere in the UK or Ireland.
---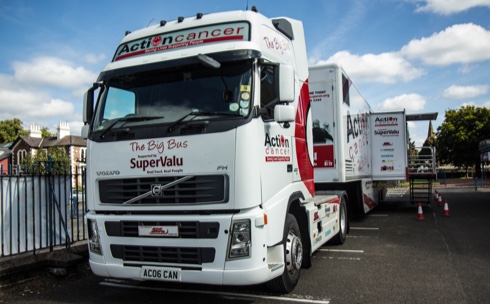 ACTION CANCER
Supported every year by SuperValu, the Big Bus first took to the road in 2006 and after 15 successful years of operation, was replaced with a new state-of-the-art Big Bus at a cost of over £500,000, in May 2001.
Since 2006 over 55,000 breast screenings have been delivered with breast cancer being detected in over 300 women. Almost 30,000 health checks have also been carried out resulting in over 13,000 people being referred to their GP.
SuperValu stores have helped raised £3.7million for the Big Bus which visits and average of 190 communities every year, bringing its life-saving services directly to people.
Almost 50% of clients said they would not have travelled for services if the Big Bus had not brought them to their doorstep.
We are very proud that through our long-term partnership with Action Cancer, we can make such a difference to the health and wellbeing of our local communities, and would encourage you to book an appointment on board the Big Bus by visiting the Action Cancer website – https://appointments.actioncancer.org/booking
---