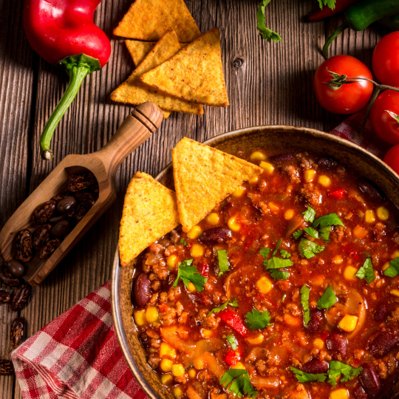 10
Mins Prep Time

40
Mins Cook Time

Moderate
Skill Level
Cooking Instructions
Heat the oil in a large saucepan over a medium-high heat. Add the onion and sauté for 10 minutes before adding the chillies, bell peppers and garlic. Cook for a few minutes more, then add the minced beef and spices. Cook until meat has browned, then add the chopped tomatoes and simmer for 20 minutes.

Stir in the kidney beans, corn and lime juice and simmer for another 5 minutes, then add the fresh coriander and honey to taste. If you like it spicier, add a pinch of cayenne pepper or some dried chilli flakes. Season well with salt and freshly ground black pepper.

Serve in warmed bowls on a bed of brown rice, topped with shredded lettuce, a dollop of guacamole and some grated Cheddar.