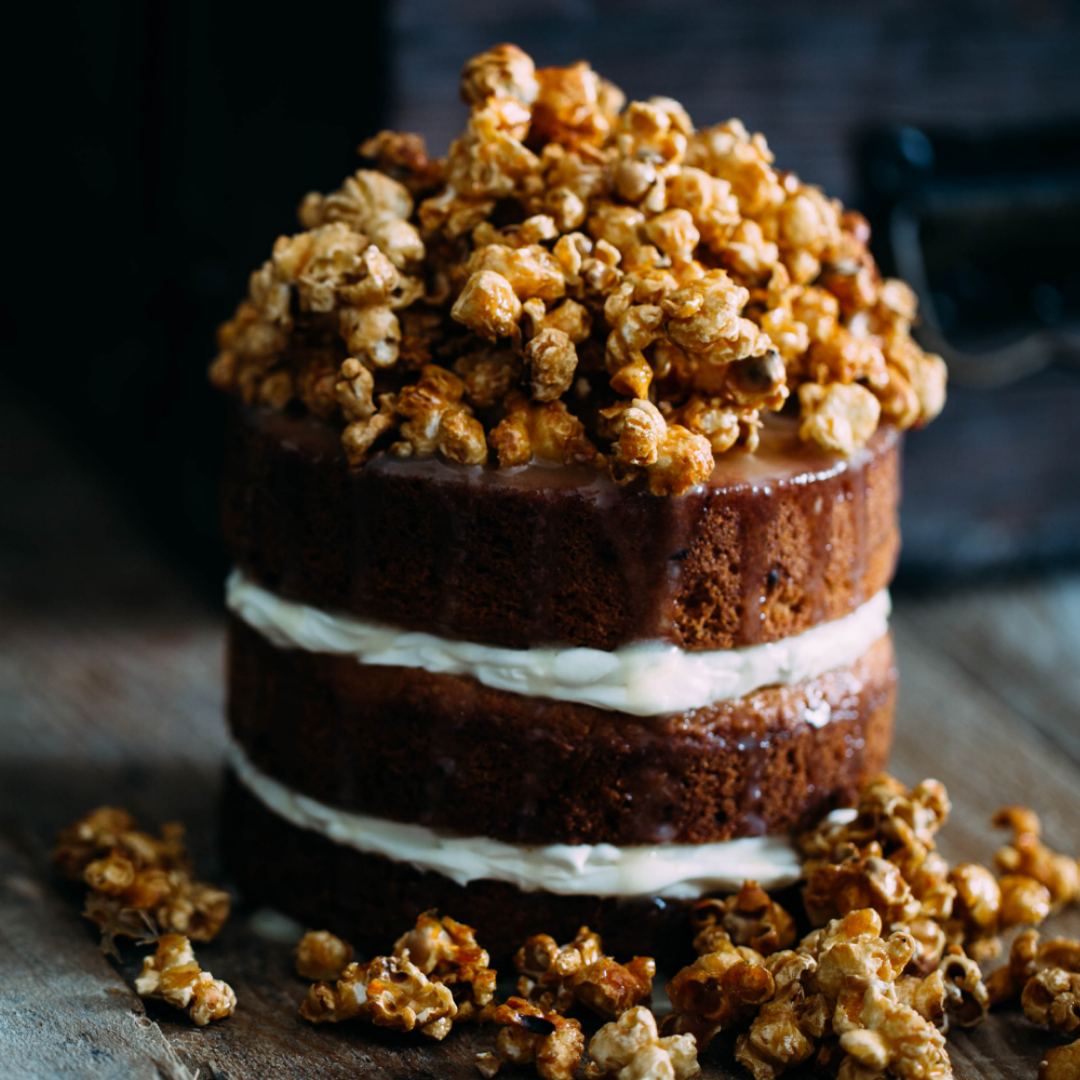 15
Mins Prep Time

35
Mins Cook Time

Skill Level
Cooking Instructions
Heat the oven to gas 4, 180°C, fan 160°C. Base line 3 x 20cm loose-bottomed cake tins. In a stand mixer, or using a hand-held mixer, beat together the butter and sugar until light. Beat in the eggs one at a time, then mix in the flour, cocoa and baking powder. Fold in the milk to make a light batter.

Divide the batter between the prepared cakes tins and bake for 20-25 mins, or until risen and springy to the touch. Leave to cool in the tin for 5 mins, before turning out onto a wire rack to cool completely.

To make the ganache filling. Melt together the cream and chocolate in a saucepan and heat gently, stir and set aside to thicken.

For the caramel popcorn, melt the sugar in a saucepan. Once you start to see pools of melted sugar, gently swirl the pan to encourage the rest of the sugar to melt. Using a wooden spoon, stir together and heat until all the sugar crystals have dissolved and the colour looks like runny honey. Take off the heat, stir in 2 tbsp water then put the pan back onto the heat to melt any clumps that have formed. Stir in the popcorn and pour onto a lined baking tray to cool.

Make the icing by beating together the butter and icing sugar until creamy. Then mix in the cocoa powder and mascarpone.

On a cake stand, or plate, layer the cake up with the chocolate ganache, leaving the top plain. Cover completely with the mascarpone icing, and use a palate knife to give a smooth finish. Drizzle over the tinned thick caramel sauce and arrange the caramel popcorn on top.