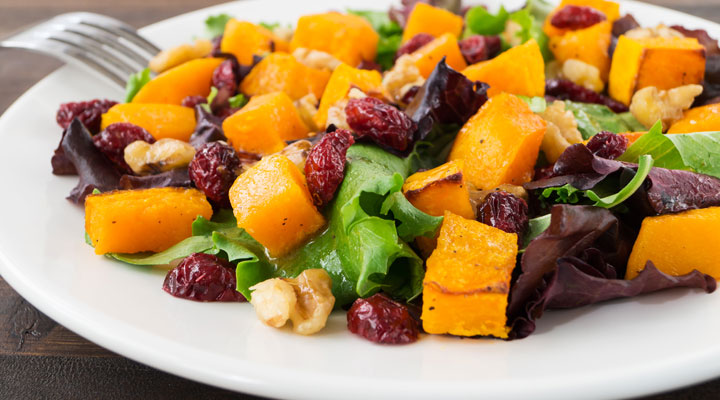 20
Mins Prep Time

25
Mins Cook Time

Beginner
Skill Level
Cooking Instructions
Clean off the stringy membrane from the seeds, wash the seeds in a sieve and dry using kitchen paper, lightly oil a flat baking sheet and spread the seeds on it.

Spread the squash over a large baking tray, drizzle over the oil and bake for 35 mins or until tender.

Bake the seeds for about 10 mins until they start to pop.

Meanwhile, cook the rice and lentils in boiling salted water for 20 mins, adding the broccoli for the final 4 mins of cooking.

Drain well, then stir in the cranberries and add some seasoning. Add the squash, seeds and squeeze over the lemon juice and serve.

Butternut squash is beautiful simply roasted like in this recipe, although it can also be a great substitute for meat in a curry and it makes a beautiful soup. This recipe has a great natural protein base coming from the squash, broccoli and lentils and minimal carbs from the brown rice so is ideal meal for after a training session… it also fills a lunchbox very well for the next day's smash and grab lunch.