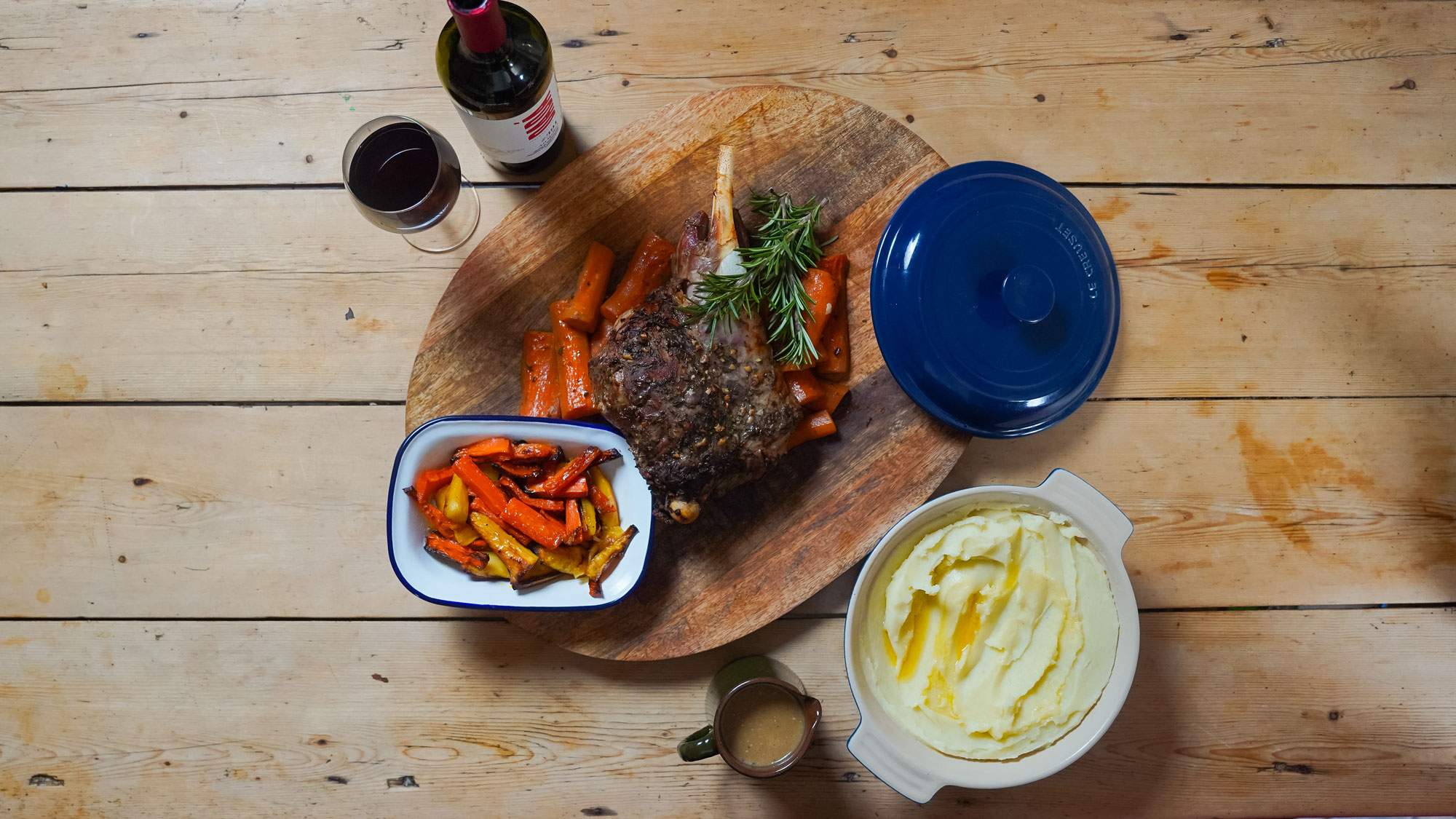 15
Mins Prep Time
45-60
Mins Cook Time
Skill Level
Cooking Instructions
Lamb – for well done lamb leg (total 2 hours) - Make the lamb marinade by finely chopping up the garlic, rosemary, pinch of salt and pepper and mixing this in a bowl with approx. 2 tbsp of veg/olive oil to form a paste. Prepare the lamb leg by carefully taking off any excess skin/silver skin. Then pierce the lamb leg evenly with a knife, this is so the marinade rub can permeate through while roasting. Rub the marinade all over the lamb and into the incisions you have made into the lamb leg.

Make sure your tray is big enough for your leg of lamb, put the onions and carrots on the tray and put the grill part over it. Add the marinated lamb leg on top of the veggies (so it is not touching the bottom of the pan) and pour 200ml of water into the tray. Then cover tightly to the edge of the tray with tin foil.

After 1 hour take the tin foil off the lamb and roast for a further 30 min-60 mins depending on how well done you want it cooked. 60 minutes is it fully cooked through. 30min is pink.

Carrots and parsnips - When the lamb has been cooking for 45 minutes. Boil the carrots and parsnips for 5 minutes and then strain and make sure they are dry, put then into a tray and drizzle with some veg/olive oil and a pinch of salt and put into the oven. At the 20 min mark take the carrots out and toss them in the tray, put back in and roast for a further 20 minutes until crispy around the edges. Then squeeze some honey over them and toss the veggies in the honey and they will become sticky.

Potatoes - Make this roughly at the same time as the carrots and parsnips. In a large pot put in the potato chunks and fill with cold water until the potatoes are covered. Then bring to the boil for 15 minutes until soft – a knife should be slide in easily into the potato. Strain and using a potato ricer or masher mash the potatoes and add in the butter and milk and salt and pepper. If you want it silkier add in more milk. Now keep with a lid on until you are ready to serve up.

Lift out the lamb at 1 hour 45 min, and place on a platter to rest. Lift out the carrots and place on the platter and then place the onions into a pot with 1 tbsp of butter with 2 tbsp flour and cook for a couple of minutes. Then add the juices from the tray, and 500ml of chicken stock and boiled. If it is too thin add in a couple of tbsp of cornflour/paste and bring to a boil to thicken. Strain and put in gravy jug or blitz with soup blitzer to make a very thick gravy.