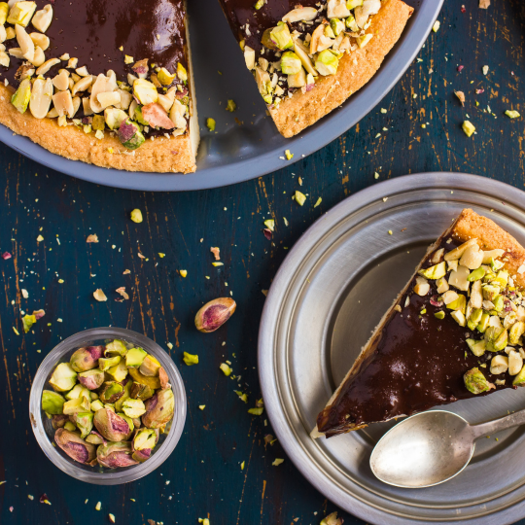 30
Mins Prep Time

3
Mins Cook Time

Skill Level
Cooking Instructions
In a bowl, whisk together flour, cocoa, chopped pistachios, and salt. With an electric mixer on medium speed, beat butter until fluffy, about 3 minutes. Add sugar and continue to beat until pale, about 2 minutes. Reduce speed to low, add vanilla, then beat in flour mixture just until incorporated and dough begins to come together. Gather dough into a ball. Wrap in plastic, pat into a disk, and refrigerate about 1 hour.

Between 2 sheets of plastic wrap, roll out dough to an 11-inch round, ¼ inch thick. Fit into a 9-inch tart pan with removable bottom, patching any tears and folding in excess dough flush with rim of tart pan. Refrigerate or freeze until firm, about 30 minutes.

Preheat oven to 325 degrees. Bake crust until firm, about 30 minutes. Let cool completely on a wire rack. Reduce heat to 300 degrees.

Make the pistachio paste: In a food processor, combine pistachios, oil, and salt. Process until mixturecomes together. Add sugar and puree until very smooth and pastelike.

In a small saucepan, heat cream and milk. Pour over chocolate in a small bowl. Let stand 2 minutes. Slowly whisk until smooth. Let cool 10 minutes, then stir in egg until combined. Spread pistachio paste evenly in bottom of crust, pressing firmly with an offset spatula until flat and smooth. Place tart shell on a rimmed baking sheet and pour in chocolate filling.

Bake until just set, 30 to 35 minutes. Let cool completely on a wire rack. Sprinkle tart with finely chopped pistachios before serving. Tart can be stored in the refrigerator up to 1 day.