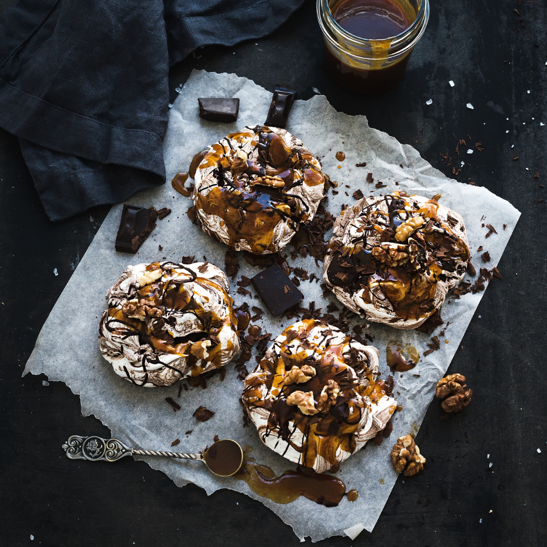 10
Mins Prep Time

40
Mins Cook Time

Skill Level
Cooking Instructions
Pre-heat your oven to 275 degrees. Line two large baking sheets with parchment paper and set aside.

In the bowl of your mixer with the whisk attachment, beat the egg whites on medium speed until small bubbles start to form. Then increase the speed to high and beat until stiff peaks form. Gradually incorporate the sugar, adding about 2 tablespoons at a time. Once all of the sugar has been added, beat on high for about 5 minutes. The meringue should be stiff, glossy and able to hold it's shape on a spoon or whisk, even when turned upside down. Scrap down the sides of the bowl. Add the vanilla extract and lemon juice and beat for 1 minute more.

Scoop the meringue out in rounded spoonfuls onto your prepared baking sheets, leaving about 1-2 inches between each mound. Do not flatten them or worry about their shape at this time.

Make sure your melted chocolate and salted caramel sauce is smooth and liquid, but not hot. Place a small amount of each (I found a dollop somewhere between the size of a pea and an almond worked the best) on top of each meringue. Then use a toothpick to swirl the toppings into the meringue, shaping the meringue as you do this. Don't flatten the meringues out too much, as they will spread some during baking. I found it easiest work with a single row of meringues at a time (adding the toppings and swirling them), before moving on to the next row. As your toothpick gets sticky, toss it out and replace it with a fresh one. Sprinkle the tops of the meringues with a pinch of sea salt.

Transfer the swirled meringues to your pre-heated oven and reduce the temperature to 250 degrees. Bake for about 40 minutes. The outsides should be dry to the touch. Remove the meringues from the oven and allow them to cool completely on their baking sheets. Then gently peel them away from the parchment paper.

The meringues can be served on the day they are made. Or stored in an airtight container at room temperature for 3-4 days. They will loose some of their crispness over time, but they will still be delicious!