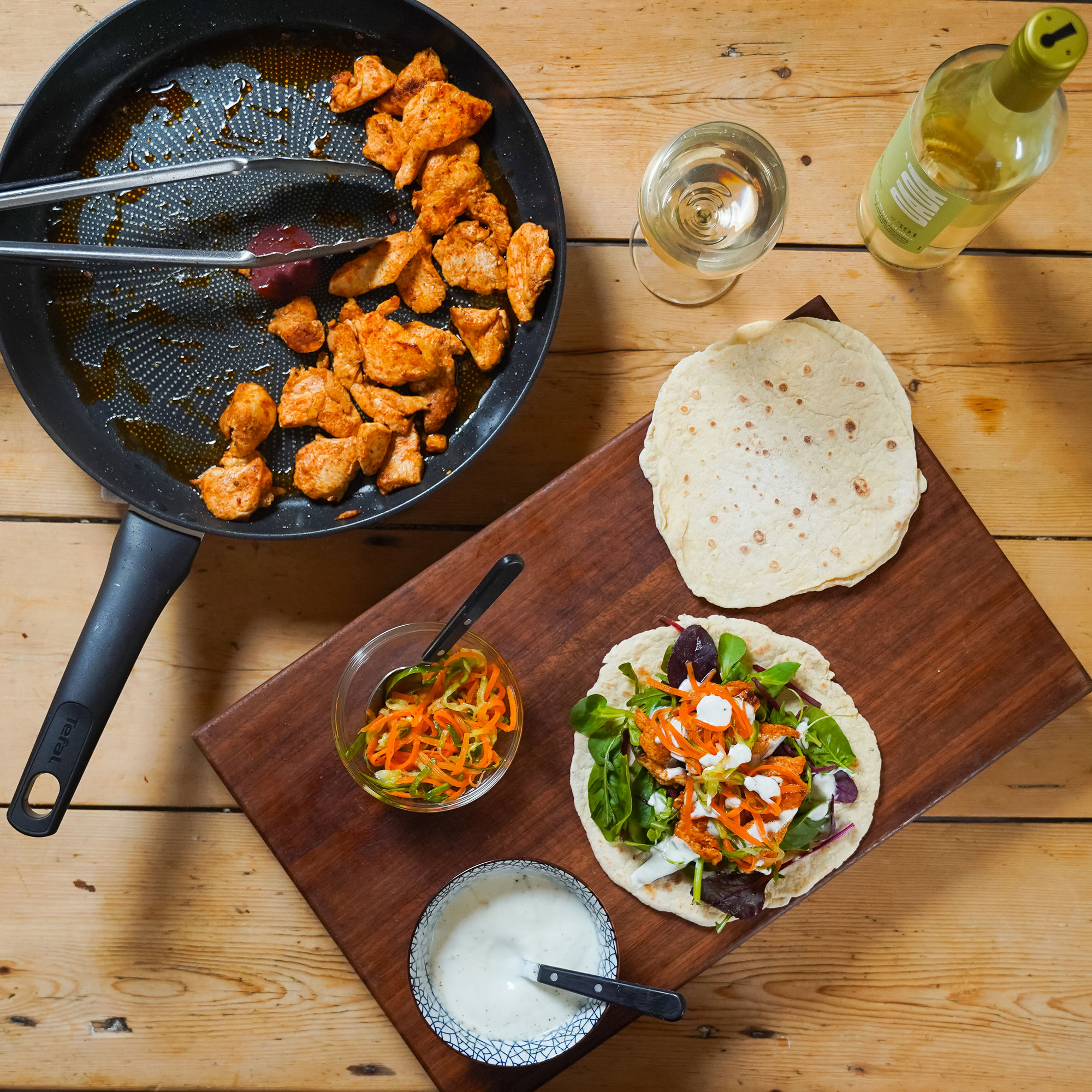 20
Mins Prep Time
10
Mins Cook Time
Skill Level
Cooking Instructions
Marinade the chicken pieces in a bowl with all the seasoning and mix well and leave for at least 10 minutes.

Put the apple cider vinegar, water, sugar, garlic, salt and pepper into a bowl and mix well.

Using a special peeler with a julienne attachment or a grater, grate the carrot and half the cucumber (you can slice the cucumber in half and scoop out the seeds if you want) and then start julienning/shredding the cucumber.

In a bowl mix the yoghurt, garlic powder and lemon juice and salt and pepper together.

In another bowl place the flour in and add the yoghurt in with the salt and pepper then combine, and keep kneading, add more flour if needed if too sticky, it should be soft dough. Then knead for a minute.

Now divide up the dough into 4 balls, dust your kitchen bench with flour and roll out flat into rounds to about 2/3 mm thickness.

Heat up a dry pan and then put the first flatbread on the frying pan and after 30-60 sec it will start to puff up, flip it over and repeat. If the flatbreads are burning really quickly lower the heat. Keep the flatbreads in a tea towel to keep them soft.

In another pan heat up 2 tbsp of oil and fry off the chicken pieces until slightly charred on all sides. Will take about 8-10 minutes.

Now put everything out on a big board to share- hot flatbreads, spicy chicken pieces, pickled veg, salad leaves, yoghurt dressing.