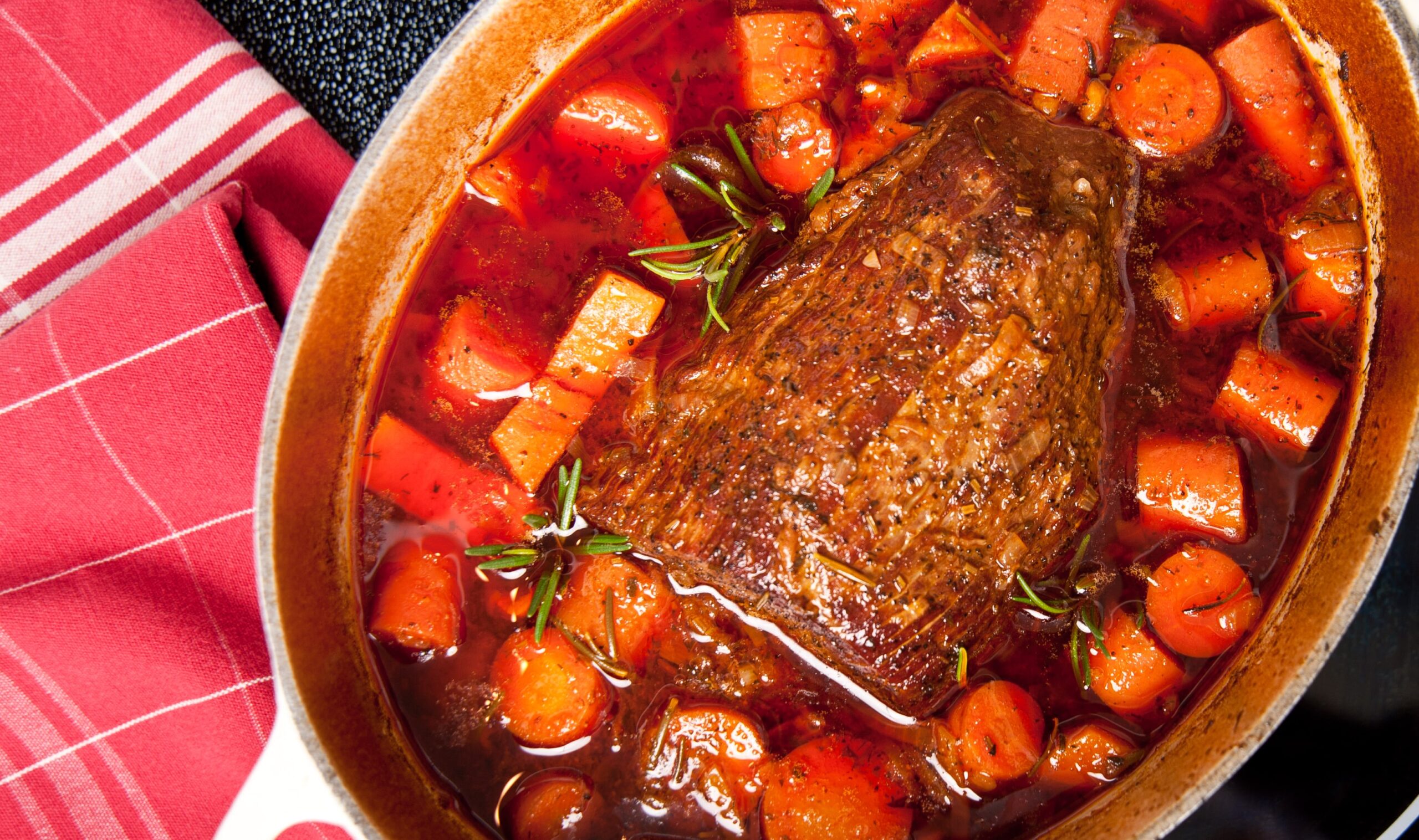 30
Mins Prep Time
4
Mins Cook Time
moderate
Skill Level
Cooking Instructions
Preheat oven at 160C and dissolve 2 chicken stock cubes into 600ml of boiling water.

In a large cast iron pot (an ovenproof pot), put about 2 tbsp of oil into the pot and put on a full heat. Then sear off all the sides of beef till there is a good colour on all the sides, it seals in the flavours. Lift out the beef onto a plate.

Then in the same pot add in the onions, carrots and garlic, let them fry in the onion and juices from the seared beef for a couple of minutes, then add in a large splash of water and let this bubble away for another couple of minutes.

Then brush mustard all over the beef joint and place this on top of the vegetables in the pot. Season really well with the salt and pepper all over the beef joint and over the vegetables.

Then add in the potatoes and mushrooms and bay leaves and place the lid on top of the pot and put into a preheated oven. Now cook for 3.5 - 4 hours depending on how large your piece of beef is. The longer the beef is cooker the more tender it will be so don't panic if you have forgotten about it even after the allocated time. At the halfway point (1 hour 45 min/ 2 hours rotate the beef over to its other side).

Once the beef is cooked, lift it out of the pot (and cover with tin foil and let it rest), lift out the mushrooms, potatoes, bay leaves and carrots and put in a serving dish. At this stage the onions will be totally disintegrated into the sauce.

Add the cornflour paste into the pot of sauce and bring the pot up to a boil and it will start to thicken. If you would like it even thicker then add even more cornflour paste. Once happy this can be served with the pot roast, but if you would like it nice and smooth then use a soup blitzer.

The beef is now ready to be carved up and served with all the other delicious elements of the dish!