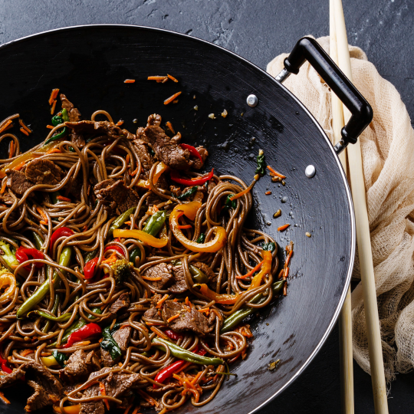 30
Mins Prep Time

20
Mins Cook Time

Beginner
Skill Level
Cooking Instructions
First cook the noodles according to the packet instructions, then drain and set aside.

To make the stir fry sauce, whisk all the ingredients together in a jug and check the seasoning.

Slice the steaks against the grain into finger-sized strips and season with sea salt and black pepper.

Heat the oil in a wok, deep frying pan or non-stick pot until it's almost smoking. Add the seasoned pieces of steak and stir-fry for 1 to 2 minutes.

Throw in the carrot or sweet potato and keep it moving around the pan for 90 seconds. Add the peppers and cook for 2 to 3 minutes, then add the broccoli, pak choi, green beans and sugar snap peas and cook for 1 minute more.

Add the shallot, garlic, chillies, if using, and the ginger and cook for 1 minute, stirring constantly so that nothing sticks. Pour in the sauce, then add the cooked noodles and toss everything together until well combined.

Divide the stir-fry between your serving plates and garnish with the spring onions.