There are just weeks left until Northern Ireland's 2016 SuperMum is crowned. Now into its third year, SuperValu has continued its search, choosing 35 finalists across the province who are in the running for the SuperValu SuperMum title.
Over the next few weeks you'll be getting to know the 35 finalists representing different SuperValu stores, who we will preview along with media partners Sunday Life and U105, in the run up to the grand final event at Parliament Buildings, Stormont, hosted by TV personality Claire McCollum on September 28th.
The overall winner of the competition will be revealed on the night and be crowned SuperValu SuperMum 2016. The event, in association with Magnum and Robinsons, will see the winner go home with a family trip to Disneyland Paris courtesy of Clubworld Travel and all finalists will receive a pamper hamper.
Below are the next 6 finalists: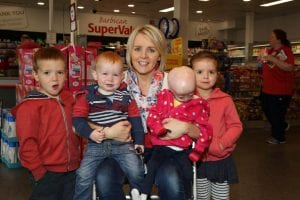 Name: Stephanie Parke
Age: 33
Store: SuperValu Newcastle
Stephanie is a mother of four children, Lucy (6) twins Jake and Jenny (5) and Ben (18 months) from Castlewellan, Co. Down.
Stephanie was nominated by her sister, Diane Murray for her dedication to her children including her eldest daughter, Lucy who was diagnosed with Progeria when she was nine months old, the only child in Ireland to be born with the condition.
Progeria is an extremely rare disease which causes limited growth, alopecia, heart problems and contractions of the joints which has resulted in Lucy dislocating both her hips. Lucy is limited to a wheelchair however with the support of a full time classroom assistant she attends a mainstream school, Drumadonnel Primary.
Stephanie has been very strong for her family and even through a difficult year with Lucy suffering a few strokes, Diane feels Stephanie is a brilliant mother to all of her children and copes very well with Lucy's condition.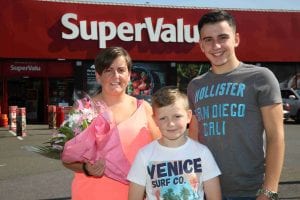 Name: Noelle Donnelly
Age: 37
Store: SuperValu Fintona
Noelle is a mother of two boys Piaras(14) and Shane (9) from Fintona, Co. Tyrone and was nominated by her friend, Joanne Daly.
In 2007 while four month pregnant with Shane, Noelle took a spinal stroke, this resulted in her spending most of her pregnancy in the Spinal Cord Injury Unit at Musgrave Park Hospital, Belfast working on her rehabilitation including learning to feed herself and walk again, and she did it before the birth.
Noelle fought more illness in 2011, falling seriously ill with a ruptured appendix and perforated bowel while dealing with her marriage break up. A true fighter, Noelle pulled through and is now enjoying life to the full with her children.
Joanne feels Noelle always puts her kids first, and even though she has been through some difficult times, she carries on for the sake of her children.

Name: Mary Craig
Age: 65
Store: SuperValu Downpatrick
Mary is a mother of one from Killough, Co. Down and was nominated by her daughter, Tracey Sharvin.
Tracey nominated Mary for being such a brilliant mum and grandmother when she battled with depression. Mary was there for Tracey throughout, stepping in to support her family, taking care of the daily chores and bringing up her children.
Tracey believes that without her love, support and help she wouldn't have gotten through her dark times. Mary also remains a rock for the family since her husband lost his battle with cancer three years ago and Tracey feels her mum is such an inspiration and is a joy to have in their lives.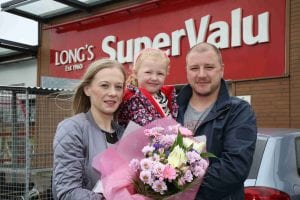 Name: Lindsey Jackson
Age: 29
Store: SuperValu Woodburn
Lindsey is a mother to four year old Amelia from Derry~Londonderry.
Lindsey was nominated by her husband, Ashley who is so proud of her adapting to life with Crohn's Disease.
Suffering for two years, Lindsey was finally diagnosed and in July 2015 she went through key-hole surgery, removing a large portion of large and small intestines. Lindsey suffered complications and had to go through major open surgery one week later, spending three weeks in hospital.
Lindsey had to go through another traumatic operation in March 2016 following some setbacks, thankfully this was a success but Lindsey then had to go through a journey of recovery as well plan for her wedding to Ashley in July 2016.
Despite these setbacks and difficult times, Lindsey is now coping with Crohns Disease, happily married to Ashley with her number one priority being her daughter Amelia.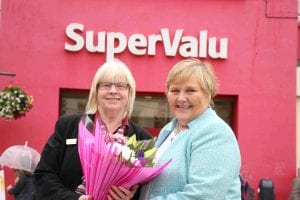 Name: Irene Hewitt
Age: 62
Store: SuperValu Waterloo Place
Irene is a mother of three and grandmother of 6 children from Derry~Londonderry.
Irene was nominated by her daughter Lynsey for being a fantastic role model to her children, grandchildren and extended family and a real community champion.
Despite suffering the loss of two boys who she carried to full term and were stillborn, Irene set up the Derry~Londonderry SANDS group and visited and supported mums and the professionals on how they approach this heart breaking events.  Irene has gone from strength to strength volunteering as a Sunday School teacher for over 35 years and plays a big role in a local cross-community group, Ulster Project helping over 2,500 teenagers work together and learn about their differences ending in a residential in America during the month of July.
Recognised for her community work at work and voluntary Irene helps with various groups including North West Children's Hospice, Children in Crossfire and Bogside Men's Forum as well as serving on PTA's and  Board of Governor's when her children were at school and is now Chairperson of her grandchildren's school's PTA.
Lynsey believes she gives so much time to others her mother deserves to be recognised herself.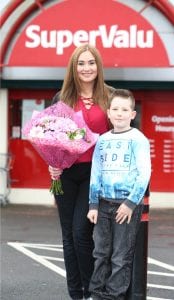 Name: Anouska Black
Age: 27
Store: SuperValu Moira
Anouska is mother to Bailey (9), from Magheralin, Co. Down and was nominated by her mother, Alison, for her positive outlook on life, hard work and determination.
A single mum at 18, Anouska had planned to accept offers for university to give her and Bailey the best life she could. However, at 19 her life changed when doctors discovered a 7cm mass engulfing her ovary. She was scheduled for emergency surgery and diagnosed with endometriosis – an invisible, debilitating chronic illness which dictates her life. Anouska has had four operations in seven years, the worst being to separate seven abdominal organs which were sticking together due to her disease. Just days ago she was again in The Royal Victoria hospital.
Due to her illness, Anouska's life choices have been limited. She went into modelling, going on to win the titles Miss Congeniality NI, Face of UK Photographic & Miss Personality World 2016. This has given her a platform to spread awareness and raise vital funds for the Endometriosis, Cancer Research, Alzheimer's and Headway charities.
Bailey is Anouska's main focus to overcome her daily pain. He is her number one priority & unless unable to move in excruciating pain, only then will she accept help.