There are just weeks left until Northern Ireland's 2016 SuperMum is crowned. Now into its third year, SuperValu has continued its search, choosing 35 finalists across the province who are in the running for the SuperValu SuperMum title.
Over the next few weeks you'll be getting to know the 35 finalists representing different SuperValu stores, who we will preview along with media partners Sunday Life and U105, in the run up to the grand final event at Parliament Buildings, Stormont, hosted by TV personality Claire McCollum on September 28th.
The overall winner of the competition will be revealed on the night and be crowned SuperValu SuperMum 2016. The event, in association with Magnum and Robinsons, will see the winner go home with a family trip to Disneyland Paris courtesy of Clubworld Travel and all finalists will receive a pamper hamper.
Below are the next 5 finalists: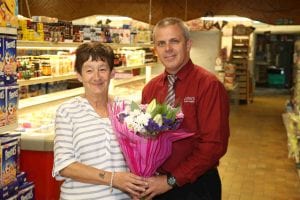 Name: Sylvia Thompson
Age: 59
Store: SuperValu Eglinton
Sylvia is a mother of three, Julie, Tanya and Mark from Eglinton, Co. Londonderry and was nominated by Julie.
In 2009 Tanya, passed away leaving three young children Calum (4) and two year old twin girls Alara and Mia.
Despite having to overcome the grief of losing her own daughter, Sylvia brought her grandchildren home and is now raising them. Julie feels her mum is doing an amazing job bringing them up and is truly an inspirational woman who puts everyone first.
Sylvia is the backbone of her family and is always first to give a helping hand to anyone who needs her help, forsaking any time for herself.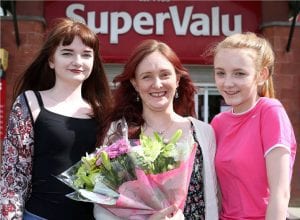 Name: Siobhan McKay
Age: 36
Store: SuperValu Strand Road
Siobhan is a mother of two daughters, Kayleigh (18) and Aoife (13) from Coleraine, Co. Londonderry.
Siobhan was nominated by her daughter Kayleigh for her positive outlook on life despite facing sudden illness last year.
Last October, Siobhan suffered from collapsed lungs, an unexpected and terrifying experience for both herself and her family, she had to undergo surgery on her lungs. Despite this Siobhan has remained upbeat and positive throughout and Kayleigh believes she really is a SuperMum as she is always there for her, her sister and anybody who needs her and got through her illness with such courage and strength.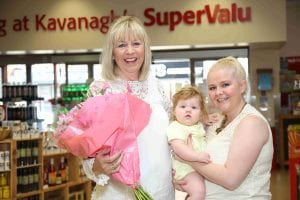 Name: June McCabe
Age: 63
Store: SuperValu Strabane
June is a mother of two Danielle (37) and Jason (42) and has eight grandchildren from Strabane, Co. Londonderry.
June was nominated by her daughter Danielle for being a real mum in every sense as well as a pillar of strength, knowledge and a pillar of the community. Not only did June look after her 12 brothers and sisters, she brought up her own children and is there for all of her grandchildren.
June is a carer for her husband, Michael who has rheumatoid arthritis and emphysema and she also continues to work seven days a week. June volunteers at the Strabane Unemployment Centre, taking classes including needle work, crafts, planning events and days out as well as caring for an elderly dementia sufferer and works in a launderette.
A very busy woman, June doesn't let suffering from arthritis and polymyalgia get in the way of caring for her loved ones and others.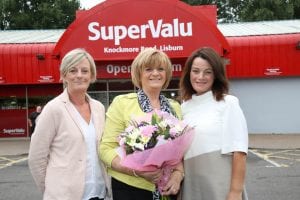 Name: Eleanor McClelland
Age: 72
Store: SuperValu Lisburn
Eleanor is a mother of five grown up children 14 grandchildren and 2 great grandchildren from Lisburn Co. Antrim.
Nominated by her daughter Janet, Eleanor has worked tirelessly to keep the legacy of her late husband, Jim active by travelling out to Ethiopia to oversee the work and continues to raise much needed funds for a school, feeding programme and medical centre in Ethiopia which her husband, Jim began 14 years ago.
Following the death of their one year old granddaughter in 2002, Jim wanted to help the needy children in Ethiopia, spending 13 years fundraising with the help of their church to buy land and build a school to help feed and educate the local children.
Jim passed away in 2015, having suffered from diabetes which resulted in the amputation of both legs and fingers, but despite Eleanor's grief and dealing with the grief of her family she has continued the hard work of fundraising thousands of pounds each year to educate and feed over 700 children and also help the medical staff there that give free medical care for up to 5,000 people living in the community.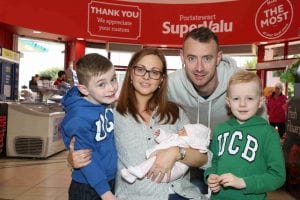 Name: Charlene Dickey
Age: 30
Store: SuperValu Portstewart
Charlene is a mother of two boys, Oliver (7) and Max (5) and newborn daughter Emily from Coleraine Co. Londonderry.
Charlene was nominated by her sister Shona when she never gave up the fight to give her son Oliver the chance to walk, when he was diagnosed at 18 months with Cerebral Palsy.
Charlene set up a fundraising appeal after researching an operation that would give Oliver the chance to walk in America. Working tirelessly to help raise the money including radio and TV interviews, Charlene raised almost double the target of £60,000 for Oliver's life changing operation, which has also secured Oliver's long term and aftercare equipment needs and watched him take his first steps just months later.
An inspiration to other mothers, Charlene has stayed strong for her family throughout and continues to take Oliver to medical appointments in Northern Ireland and Scotland as well as making sure Max attends swimming lessons. Charlene now supports other family's offering help, guidance and information to parents who have children with Cerebral Palsy.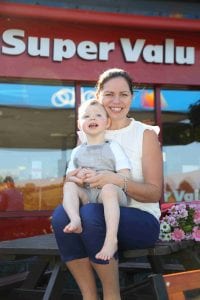 Name: Paula Magee
Age: 34
Store: SuperValu Aughnacloy
Paula is mother to Cillian (2 ½ yrs) from Caledon, Co. Tyrone and was nominated by her husband, Colin.
Colin feels Paula is the rock of the family having been through so much heartache over the past four years. Married in 2011 and overcoming a miscarriage in 2012 and the loss of her Granny in 2013, Paula and Colin were delighted to welcome their son Cillian into the world in February 2014. Cillian spent the first three weeks of his life in neo-natal and still attends appointments to help with his development.
Both were surprised to discover in July 2014 they were expecting again however in December 2014 were devastated when their baby was diagnosed anti-natally with Hypoplastic Left Heart Syndrome, a rare heart condition.
Cahir was born in March 2015 and spent most of his 18 weeks of life between hospitals in Birmingham, Craigavon and The Royal in Belfast, dealing with heart operations, Bronchitis and Chicken Pox. Cahir sadly passed away in July 2015 at 18 weeks and two days and Paula kindly donated her breast milk to the donation bank after she was unable to feed Cahir herself.
Despite dealing with so much, Paula and her family have fundraised for various charities including Tiny Life, Children's Heart Beat Trust and Ronald McDonald House, Birmingham which have all supported them. Paula also re-joined Weight Watchers Armagh in September 2015, reaching her target within six months, losing 4 stone 4lbs and has started taking part in 5km runs.