There are just weeks left until Northern Ireland's 2016 SuperMum is crowned. Now into its third year, SuperValu has continued its search, choosing 35 finalists across the province who are in the running for the SuperValu SuperMum title.
Over the next few weeks you'll be getting to know the 35 finalists representing different SuperValu stores, who we will preview along with media partners Sunday Life and U105, in the run up to the grand final event at Parliament Buildings, Stormont, hosted by TV personality Claire McCollum on September 28th.
The overall winner of the competition will be revealed on the night and be crowned SuperValu SuperMum 2016. The event, in association with Magnum and Robinsons, will see the winner go home with a family trip to Disneyland Paris courtesy of Clubworld Travel and all finalists will receive a pamper hamper.
Below are the next 5 finalists: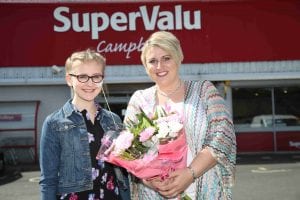 Name: Sharon Dodds
Age: 43
Store: SuperValu Kells
Sharon is a mother of two, Rachel (14) and Jack (16) from Ballymena Co. Antrim.
Rachel nominated her mum for the support she has given her as she copes with living with Crohn's Disease. Sharon is by Rachel's side when she is sick or is taken to hospital, having previously worked as a nurse. Sharon gives her the best of care and is with Rachel every step of the way, even fasting when Rachel has to fast for theatre.
Sharon gave up her nursing career when her children were very young as Jack suffers from Autism and ADHD and felt she needed to dedicate her time to raising her children, to ensure the best care.
Sharon also gives her spare time to volunteering at the local Foodbank and is heavily involved in church activities. She is a Guide Leader in training, as well as fundraising for Crohn's & Colitis UK and Autism NI by holding coffee mornings. They also donated Easter Eggs to the Belfast Royal Children's Hospital, where Rachel receives her treatment, and recently raised over £2000 for them through a friend completing the Belfast Marathon.
Rachel is so thankful for how much Sharon does for both her and her brother and feels she is their very own SuperMum!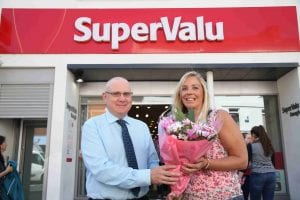 Name: Sara Wilson
Age: 37
Store: SuperValu Omagh
Sara is a mother of one, Jack (14) from Omagh Co. Tyrone.
As a single mum dealing with severe anxiety, since Jack was born Sara has had to deal with so much to ensure she brings Jack up in the best way possible. Jack took seriously ill with pneumonia when he was six weeks old and at the age of three and a half years was diagnosed with Autism.
Sara created ways to help Jack communicate so his disability wouldn't hold him back, however when Jack was 10 years he was rushed to hospital and diagnosed with Aplastic Anemia, a very rare condition of bone marrow failure.
During this time, Sara was working for a degree in Events Management, once Jack's treatment became more manageable she was able to work on it while she stayed with him in hospital and completed it once he returned home. Sara is currently working towards a BA Honours in Youth Work.
Jack now attends secondary school following a difficult few years and Sara has set up the JDW fund, named after Jack allowing her to raise awareness of Aplastic Aanemia, raising funds for the Children's Cancer Unit and NI Cancer Fund for Children who supported them throughout Jack's treatment. Sara also supports blood drives sharing information on how and when people can donate.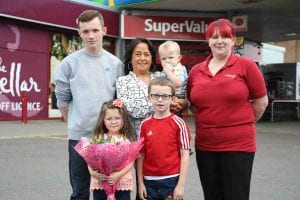 Name: Margaret McCarragher
Age: 58
Store: SuperValu Dromore
Margaret is a mother of 12 children, including an adopted (son/daughter), one long-term foster daughter and three long-term foster sons from Dromore, Co. Down.
Margaret was nominated by her daughter Nichola for being an excellent mother to not only her and her siblings but opening up her home to over 50 children as a foster carer.
Over the past 23 years, Margaret has welcomed many children into her home and for those who have gone on to be adopted, she has kept in touch with many and goes to visit them at Easter, Christmas and for birthdays.
Nichola is so proud of her mum, her life revolves around children, enjoying every minute and giving so much time to each and every one that she has even inspired Nichola who is now also a foster carer.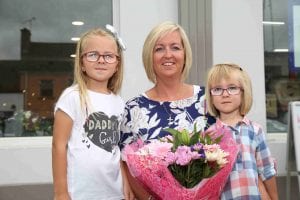 Name: Kerry Brolly
Age: 36
Store: SuperValu Garvagh
Kerry is a mother of four children, Cathal (16) Brona (8) Neave (5) and Theo (10) from Garvagh, Co. Londonderry and was nominated by her sister, Lee McGuckin.
Cathal, Brona and Neave have a genetic syndrome called Jeunes, a form dwarfism, it is a very rare condition which affects the size of their chest and their eye sight. All three are registered blind, however Cathal's eye sight is the most affected, with Brona and Neave's deteriorating and they are waiting to hear from doctor's in America to see if they know if there is anything they can do to help.
Kerry's children are the only family in Northern Ireland to have Jeunes and they have to attended hospital appointments at least times each week. They are currently travelling to Great Ormond Street Hospital in London with Cathal, as they were told he needed chest expansion surgery to help him breathe, sadly there is nothing they can do as his lungs are so weak.
Difficult at time but taking it in her stride, Kerry never complains and just gets on with it when it comes to travelling to Altnagelvin, The Royal and Coleraine hospitals and she does all this while her husband works away home, only returning every fortnight. Kerry wouldn't have it any other way as they are 'her special little kids'.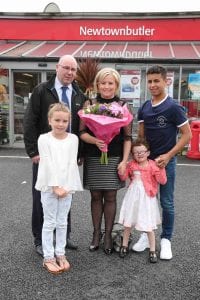 Name: Arlene Anderson
Age: 43
Store: SuperValu Newtownbutler
Arlene is a mother of three children, Anthony (15) Aimee (9) and Lauren (5) from Kinawley, Co. Fermanagh.
Arlene was nominated by her friend, Brighid Owens for working tirelessly to balance work, with raising three children, running a busy household and doing everything she can for the care of her youngest daughter Lauren, who has a rare chromosomal disorder.
Lauren has acute sensory needs as well as sight problems which require her to have special care and attention at all times. Arlene does everything in her power to give Lauren the most fulfilled, happy life from travelling up and down the country to get the best therapies, to travelling to Dublin to learn about music therapy or learning Makaton sign language and implementing it with Lauren on a regular basis.
Arlene lives life with enthusiasm and a joy of being a mother to her three children and because of Arlene's commitment, Lauren has started Gaelic football, attended her local playgroup and has now reached the milestone of starting school this month.